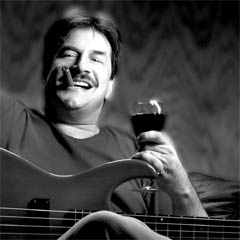 Nell'ambito dei grandi bassisti di tutti i tempi, non potevo non realizzare un articolo su un musicista che nel corso degli anni '70 è stato riconosciuto come miglior bassista americano, parlo del mitico Jeff Berlin.
Jeff Berlin ha collaborato con moltissimi grandi musicisti, come John Mc Laughlin, Isaac Hayes, Billy Cobham, Bill Frisell, Arturo Sandoval, Mike Stern ed altri ancora.
Ospite fisso nei Festival di tutto il mondo, Jeff Berlin si è ritrovato al'interno di jam-session con star del panorama Jazz e Rock, penso a Jaco Pastorius, Van Halen,Bill Evans, Stanley Clarke e Pat Metheny, non disdegnando neanche l'ambito Pop, prendendo parte infatti ad uno show televisivo con il cantante Donnie Osmond.
Durante la sua strabiliante trentennale carriera, Jeff, ha mostrato anche molta attenzione all'insegnamento, con tanto di corsi (fra l'altro egli è fondatore della scuola The Players of Music in Florida) ed effettuando clinic in tutte le parti del mondo.
Jeff Berlin ha molti estimatori in tutte le parti del mondo ed anche tra gli "addetti ai lavori", come nel caso del proprietario della Dean Guitars, che gli ha dedicato un basso elettrico costruito appositamente per lui, denominato appunto Jeff Berlin Bass.
La sua discografia è decisamente voluminosa, ma vanno senz'altro citati alcuni album come quelli realizzati con Bill Bruford, Yes, Allan Holdsworth, Kazumi,Patty Austin e George Benson anche se è davvero difficile contare tutte le sue presenze in altri dischi con altrettanti artisti.
Per quanto riguarda gli album da lui registrati a suo nome, vanno citati senz'altro Champion, Pump it e In Harmony's Way, nei quali ancora meglio si può apprezzare la sua altissima caratura musicale.
non c'è che dire Jeff Berlin è proprio un bassista di livello straordinario.