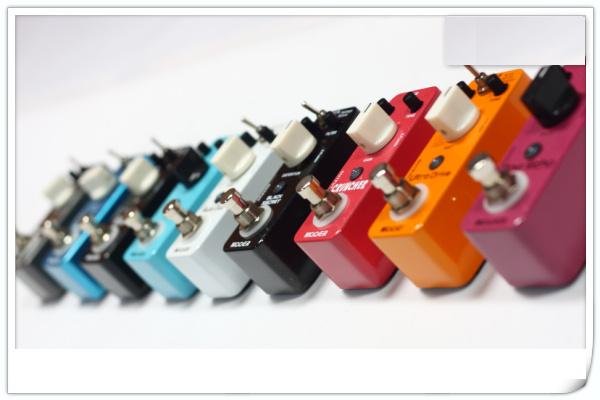 Bass guitar
effects are equipment used to alter the audio signal from the instrument to the
amplifier
.
While bass effects could give you a new signature, it is always recommended to give it just a subtle twist so as not to overlap with the
guitar section of the band.
Effects
made for bass guitars are similar to lead guitars, but is designed to fully optimize the distinctive tone of a bass guitar.
There are two types of bass guitar effects according to technology: analog and digital. Analog bass effects involve the physical alteration of parts and voltage to produce different sounds. Most analog bass effects are customized depending to the need of the bass player. Digital base effects involve microchips with computer programs and predefined algorithms to mimic particular sounds. It is more advanced and covers a wider range of audio effects. Today's bass players prefer the digital sounds because it is more convenient and cost efficient.
Bass guitar effects can also be categorized depending on their pedals: Multi-effect and dedicated. Multi-effect pedal or a rackmount is a unit that consists of several pedals. You can preset your effects and conveniently turn it off or on while on stage. While many agree of its flexibility and convenience, the more effects it houses, the less quality it produces. Dedicated effect pedal or stompbox produces a single sound and in much more quality compared with multi-effects pedal.
Fuzz box is another bass guitar effect most notably used by
Paul McCartney
in the song "Think for Yourself" in the 1965 Beatles album, Rubber Soul. It has a dirtier and edgier sound than overdrive and distortion. Bass compressors, as the name suggests compresses the sound to make louder or quieter. Manipulating the bass compressors will either give some volume or punch in the song or subtle and quiet texture. Funk bands of the 60's and 70's uses "wah-wah" pedal bass effects most notably Melvin Ragin. The late Cliff Burton of Metallica extensively used wah effects on several songs such as "The Call of Ktulu" and "For Whom the Bell Tolls".
Overdrive bass effects produce a "buzzing" or "growling" sound which can be heard on rock and heavy metal songs. Early bass players use guitar distortion pedals because bass effects are not commonly popular back then. Rage Against the Machine used bass distortion effects for their album the "Evil Empire".
Think of bass guitar effects as the dressing on a salad, nothing else. While it adds flavor to the music, it should never steal the real value from the main ingredients. There are many more effects out there, but a constant idea remains true: bass guitar's role in the band as provider of the beat and rhythm should never be compromised by introducing different sound effects.
Article Source: http://EzineArticles.com/6721191